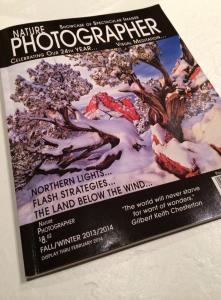 Field Contributor, Debbie Parker, photograph "Mourning Doves Three" was chosen for the current issue of Nature Photographer Magazine.

Nature Photographer is a "how–to" magazine, published in print form three times a year covering all four seasons—Spring, Summer, Fall and Winter. The Spring issue is published each March, the Summer each July and the Fall/Winter a larger combo issue each November. The magazine is intended for nature photographers and nature enthusiasts who range from beginners to professionals. It will help you channel your intense interest in nature photography into more successful trips into the natural world, whether they be for the day, weekend, holidays or vacations. This is the magazine for those interested in photographing the wilderness—in far-off destinations, in local parks or in your own backyard.

Nature photography is all about getting out there and being a part of our natural world. When in nature working on our photography, it is...